"We're on a journey, a journey, we are not from here, we're just passing through …" The lyrics gives food for thought, the melody gets stuck in your head, and the images give a wonderful impression of one of the most beautiful places in Senegal.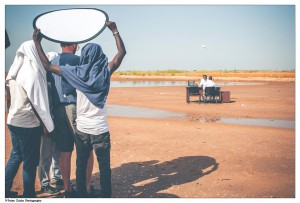 To shoot this video we gather at four o'clock in the morning at my office. We hope to be far outside the city at sunrise, in the famous "Saloum" region. Known for its unique natural 'shell beaches' and the beautiful scenery. After a five hour drive, we arrive in Joal (the birthplace of the first president of Senegal, Senghor). Nature is vast and incomparable with the dusty bustle of Dakar.
W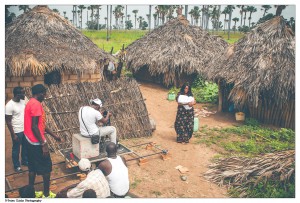 e have been preparing for several weeks in advance; script writing (together with colleague Ewien), casting actors, organizational set up, etc. And so we drive in a three car convoy with a team of 18 people to meet the rising sun. We follow the creative direction of a Senegalese production company, one by one we go down the various locations. After some talking and negotiating, we even receive permission to film the birth scene in a small village. Maria's dolls have their well hidden acting debut in this scene!
[youtube]8axYDYmEwTQ[/youtube]
[youtube]h5lU597UdPA[/youtube]