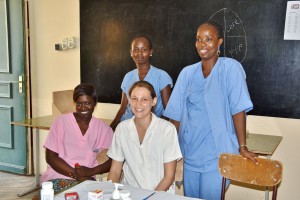 It does not sound very heroic when I say that the greatest success of the pediatric consultation is the amazing team spirit. Since October the clinic now offers a separate consultation for children from 0 to 5 years old. The specially trained nurses examine children through a comprehensive system so they won't miss any disease. Moreover, the children are always weighed and measured, vaccinations are checked and there is more time for education and prevention. The enthusiasm that the nurses now radiate has not always been present at the beginning.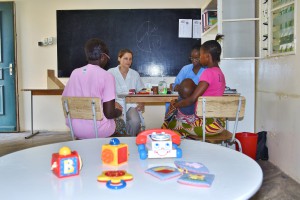 How can we organize this? How do I learn all these children's diseases? What space can we use now the new building is not yet ready? Who will pay for the furniture? There were all kind of odds and ends when starting the project. It seemed an impossible task: to start pediatric consultation with just a few nurses who were not trained to do surgery, without sufficient space, and without material, knowing that the program would not cover its own expenses… Lots of paperwork for a fund request, six months of training sessions and internships at other hospitals, ordering furniture, etc. With every setback we don't stay discouraged; we pray and we go on. And thanks to the training, the nurses become increasingly aware that we can really improve our care for children through this program.
"I am so thankful you convinced me to join this program, this job really suits me!" shares one of the nurses. After three months of outpatient pediatric consultation I can look back gratefully. The nursing staff has learned a lot, two expatriates participated voluntarily. In the room we have equipped thanks to donations many things are happening simultaneously; In one corner a dehydrated child is drinking rehydration fluid, in another corner a malaria rapid test is conducted, next to them the midwife gives advice to a young mother and a nurse is examining a child. It's the kind of teamwork that would not be possible with the European privacy regulations, but it does give us a lot of happy faces!