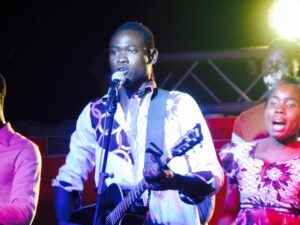 A dazzling concert was held last week in a stadium in a small town in the middle of Senegal. For the first time since COVID-19 restrictions forced us to cancel all our activities, it was possible to organize a large open-air concert again last week! And the estimated 3.000 visitors were a great encouragement!
The eight guest musicians reflect the national impact of the music ministry that Jan supports with the vision: high-quality Senegalese music with a relevant message. They each have their own style and come from different parts of the country. We would like to introduce you to some of these artists.
Roubia is a Senegalese singer, her father was the first Christian in their family. Her music varies between Mbalax and Reggae
Goupe Leer has been around for many years. When their lead singer died a few years ago, the group fell silent for a while. Fortunately, they have recently started playing with full dedication again and are including some young talents in their group

Antoine is a rapper from the North of Senegal. There are few Christians in his people group, and he always raps in the language of his heart:

Yeta Sarr is a singer from Dakar, since she joined our studio, her music has reached the whole country, and beyond!