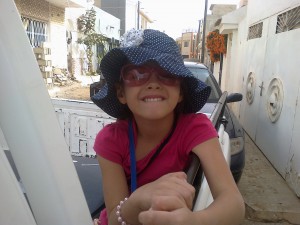 To Maria sitting on the back of the car on a bumpy dirt road is actually more fun than riding a camel. There is much to explore in the north of Senegal. While driving, we see shepherds with large herds of cows, sheep, goats and camels. We have to watch out for crossing donkeys, they are really as stubborn as their reputation suggests.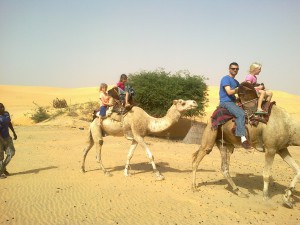 We combine work with some unique trips. About 250 km. north of Dakar the landscape at the coast is like the Sahara desert: High hills of fine, hot sand. The children enjoy 'sand surfing' and camel riding. Simon already decided he doesn't dare to surf or ride until he has grown up 🙂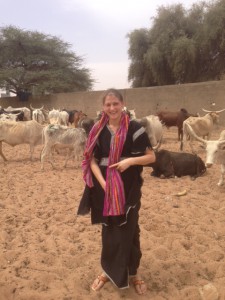 Another 200 km further north, near the border with Mauritania, at the river 'Senegal', we visit park Djoudj, one of the largest bird sanctuaries in the world. Thousands of pelicans lay their egg on islands in the river. Many migratory birds from Europe winter in this green area abounding in water. We discover diversity in nature in Senegal we considered impossible before this trip.
Surrounded by pelicans, while the fish eagle circles above our heads, crocodiles lie on the shore and pythons are unseen in the vicinity, we discover our namesake: the lapwing (Kievi(e)t in Dutch)! Even nature is confirming that we belong here in Senegal, as its Latin name is Vanellus Senegallus, Senegal Lapwing. The Kievi(e)t disappears in his surroundings, only his bright yellow legs are contrasting with the brown grass. And do you think he pronounces his name in Wolof? No, he just says: "Kieieieviet, Kieieieviet!"