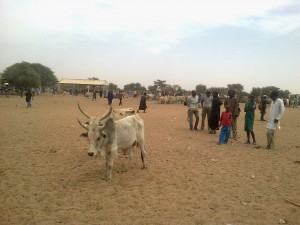 Soulee is a young shepherd in the north of Senegal where the Fulani – a nomadic tribe – live. It is very hot and drought has turned the landscape into a desert. Soulee has completely wrapped his scarf around his head and over his mouth excluding heat and dust. This Sunday he travelled to Dahra Dioloff for the largest cattle market of the region. He wants to sell his cows before they die of weakness. The Fulani are looking forward to the rainy season but it will take at least 3 months before rainfall will start.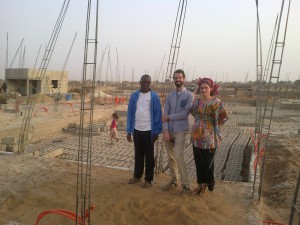 For a week already Soulee is not feeling well. He has fever and this time even a cup of fresh milk didn't help to calm his belly. He heard a doctor of his own tribe has a clinic in Dahra. This Sunday I am working in the office of Dr. Soh and am welcoming Soulee. His illness appears to be typhus, a disease that is common here, often caused by drinking non-pasteurized milk which has been kept for too long. A nasty disease, but with the proper treatment the patient will be better within one week.
It is always a good experience to do consultations in a clinic in a rural area. We stay for one weekend in Dahra to visit a co-worker. Dr. Soh studied in Libya but felt called by the Lord to work among his own people. He now runs a small health clinic, but is dreaming of a real hospital. Meanwhile his dream becomes reality: a hospital is under construction near the largest cattle fair/market of the region. Medical care is an urgent need here. Because of their nomadic existence the Fulani have little access to health care although they are wealthy people. This hospital could have an impact on the whole northern part of Senegal and beyond, as traders come even from Mali, Mauritania and Burkina Faso.
At the end of the day I am accompanying Dr. Soh to an elderly patient at home. The family is welcoming us warmly and Dr. Soh treats the patient and gives advice. The family hands us a bucket of fresh milk to convey a heartfelt 'thank you'. With the experience of Soulee still fresh in my mind this time I'd rather not drink a cup of milk…