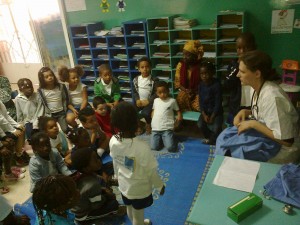 "Who wants to be a doctor?" "me me me!" 17 children are screaming at a time. Maria and her classmates swarm around me as I give a short lesson to the 4-year-olds about what a doctor actually does. A white coat and stethoscope in your ears, they'd all love to do that. What do you hear? What do you see? Antoine, a clever Frenchman even knows the word 'eardrum'. Not surprising since his mother is a doctor as well.
The parents of most classmates work both and many children are picked up by their nanny. "Higher educated Senegalese women would also like to work part time, but this option simple does not exist." Sophie's mother shares this with me as I pay her a working visit at the institute for infectious diseases. She has studied in Canada and is now happy to have a job in her home country.
Maria asks occasionally to have school buddies over to play, and I'm glad this is possible. And giving a lesson in her class on a day off is also very nice. Well, a day off? Ok, a day off, except for free consultations for all teachers….