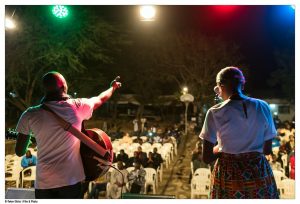 "This wasn't a forum, this was a revolution!!" says a pastor at the end of the first edition of the International Forum for Christian Artists. The vision that had been penciled in our agenda for a long time but became concrete this summer when we visited the Christian Artists Seminar in Germany. With an abundance of dedication and a healthy portion of faith, we took on the challenge. And a challenge it was! In the finances, in tracing the artists, in managing the team, in receiving the main speaker, the organizing of the workshops, etc. But something new has revolutionized the network of Christian artists in Senegal, a movement that now seems irreversible!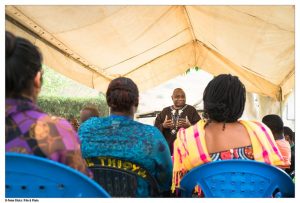 The well-known French / Congolese Gospel singer Marcel Boungou had made special arrangements in his agenda between a trip to Brazzaville and Guadeloupe to teach at the forum. With more than forty years of experience in gospel and world music, he lead the participants in a new dimension of musical knowledge: the basis of personal spiritual life, professional development and a humble heart attitude.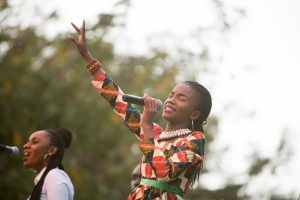 65 participants had registered and a few dozen more came as a day guest. From all regions of Senegal, and even from the neighboring countries. Some had traveled three days to come. A great cultural and musical diversity. Virtually all ethnic groups from Senegal were represented and the music had a spectrum of extremes: urban rap music, traditional Fulani vocals, Afro Gospel, A Capella, etc. etc. Every evening there were about ten different artists performing on the open air stage.
The three-day Forum was divided into three components each day. The mornings consisted of (biblical) teaching by the main speakers. The afternoon program was interactive with two choice workshops (stage performance, singing, dance, sound technique and guitar) followed by a debate where participants could share their experiences and opinions. A panel of Senegalese musical ministers gave them advice and a reply. The free entry, open air concert was held in the evenings.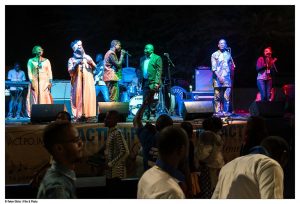 The tone has been set! This platform for Christian music in Senegal is a fact. Based on the reactions from participants and visitors, we can expect many great things for the future!