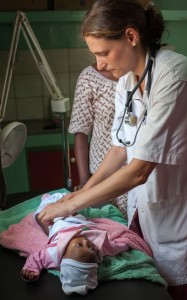 Ndaye Fatou shares with me her experiences the last time she gave birth. After nine years waiting for a child, she was finally pregnant. Just before the due date she was rushed to the hospital with a placental bleeding. She was helped five hours after her arrival. Her baby had already died in her womb and she was in need of a blood transfusion herself. Now she comes because of pain and the burning questions when she may be pregnant again. And in fact she needed a safe place to share her story.
One in fifty women in Senegal dies from a complication of childbirth. 1 in 6 women will lose a baby during childbirth. Soon after the start of the prenatal clinic these figures have faces and names. Prenatal care can prevent a lot of misery. Yet only half of the women in Dakar come for the minimum of four prenatal visits. The main reasons are money and the weak position of women. At my clinic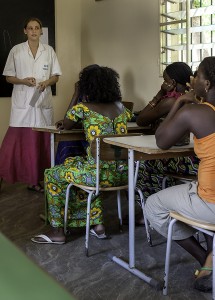 – where the average woman can not spell her name – polygamy, female genital mutilation and domestic violence are daily reality.
Education is the most important aspect of pregnancy care. We give the expectant mother information about her health and that of her unborn child, and on preventing problems. This knowledge even makes an uneducated young mother autonomous and strong. Thanks to the Veenendaal Knitting Club I can offer every woman that attends all four prenatal visits and does the basic tests, a gift. In this way, we hope that the statistics for the 40 women that are currently in our program will be more favorable, and that 40 healthy babies will be born!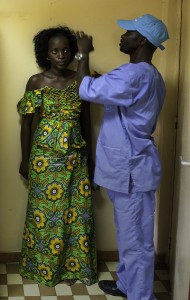 Sources: DHS Senegal 2011, UNFPA 2011
Photos: Leonie Broekstra