A group of young shepherds stand chatting on the street corner at dusk. A nurse starts talking to them and he shares about the forgiveness he has experienced through Jesus. The boys listen intently; they have never heard this before!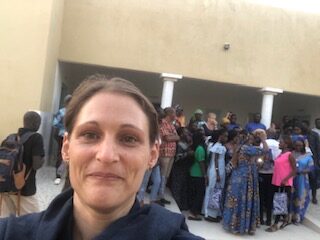 Eighty members of the Foundation for Christians in Health Care were visiting North Senegal. Our clinic hosted this event with a mix of medical training, Bible studies and fellowship. Even many Senegalese have never been to the North, so it was a true tourist outing! Fresh meat was eaten and, of course, lots of milk drank. In a beautiful scenery of vast plains, shepherds, and thousands of sheep at the weekly cattle market.
During a visit to the clinic the vision and the medical needs are shared (perhaps attracting new colleagues?). But it is during the outreach that participants really get to know the village: in groups of 2 or 3, they go out onto the streets and the market, talk to residents, and unexpected conversations ensue. And just before leaving, many participants go buy a sheep to take home as a souvenir!