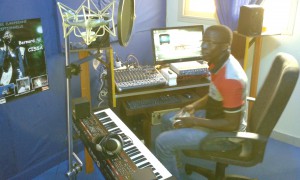 It wasn't only musically that the tour was a success, also for the fundraising of a Music Recording Studio we made an important step. Thanks to the CD sales and the offerings we now have sufficient funds to buy basic equipment for a recording studio. We already took the mixer and sound card with us in the suitcase! We are currently remodelling a room in Bernard's apartment to temporarily house the studio as we gather the rest of the equipment. This is not easy in Dakar, and even it even caused me a visit to the police office…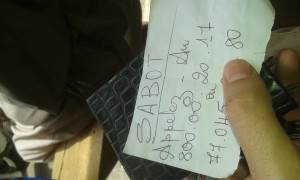 "Sir, you should know the traffic law, and thus be aware that it is never allowed in Senegal to park on public roads." My discussions with the police officer has little effect. In the busy and chaotic city of Dakar, I was glad to have found a good parking spot where the car did not interfere with traffic, and without any sign indicating parking is forbidden. Imagine my sad face when I discovered a wheel clamp on the front wheel on returning. The official kindly offers to send someone to pay the fine for us, but that does not seem like a good idea to me. Together with Bernard I walk the ten minutes to the police headquarters.
We soon find out that some more people have been fined today. Dozens of motorcycles are parked and a large group of youngsters thronging in to an office. With the necessary pushing we manage to get our name on the list and we wait our turn. After an hour in the sun we're called into the small office. I greet the policeman in my best Wolof, and after mentioning that my wife works at Keru Yakaar the mood at the office becomes even better. I still have to pay the 12 dollar fine, but at least we're ready to go home in good spirits.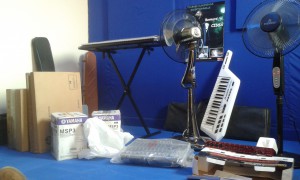 Thanks to the charity concerts in the Netherlands we can now make a start with the recording studio. We have enough money for the basic equipment. But to rent our own space we still need more financial stability. Therefore, we start the studio in Bernard's home; the music needs to go on! With your support we hope to open the doors of the first Gospel Recording Studio Senegal this year.
Would you like to support this project? Your donation from Europe you can be send to:
CAMA Zending in Driebergen
IBAN: NL76 ABNA 0484 6740 48
BIC: ABNANL2A
marked: "Senegal project Studio"
From the USA you can make a tax deductible donation to the C&MA marked "Senegal-approved Special Christian Music" by check, online or bank transfer. See: https://secure.cmalliance.org/give/