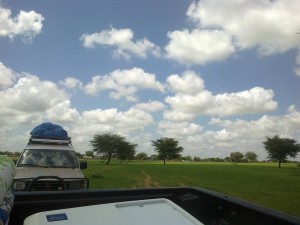 A car parks next to the straw hut at twilight. It is the hut of Ahmed, a shepherd like virtually all of his people group (Fulani) in northern Senegal. He isn't poor, as shown by his large herd of cows and sheep. For this wandering tribe medical care is not taken for granted. This counts also for his wife, who gave birth a few days before in the village Widou. After the delivery she got an infection, we find her and her baby in the hut in critical condition.
In collaboration with a youth project and the Senegalese (Fulani) missionary physician Dr. Soh I'm on a medical campaign in this village. I join with four colleagues from the clinic, two of whom speak Pulaar (the language of the Fulani). For three days we set up a clinic where people received free medical care. Around 300 patients from the area come.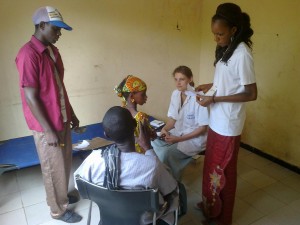 We see many people with diarrhea and chronic symptoms that greatly benefit from a free doctor's visit. Others have more acute illnesses and we can help them immediately. Just as the wife and baby of Ahmed. Following an infusion of antibiotics and nutrition for the baby they recover quickly. Dr. Soh brings the woman home so they don't have to walk the 30 km. Grateful Ahmed embraces them, this could have ended very differently. He orders to have the best sheep brought out from his flock, and presents it to us as a gift, but Dr. Soh explains gratefully that the care is really for free.
A medical campaign is a medical action where free or low cost care is delivered in a place where the need is greatest. With a team of medical personnel and a car full of drugs and materials (often donated) we go to a secluded area. There we put together a temporary clinic in a (school) building or under a tree. All this is done in collaboration with a local doctor and with the approval of local authorities. In this way, the action is rooted in the existing structure which allows for a good follow up. People come with acute and chronic complaints. For vulnerable people we share vitamins and anti-worm medicine. Generally people are very grateful for this kind of help. It shows that there are people who care about them, who make the effort to take care of them while they are often forgotten. For God every person is valuable!