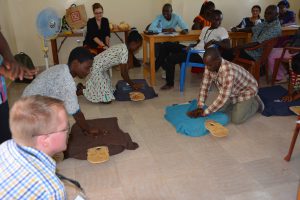 "The airway is free!" Etienne calls out pointing to the old manikin whose head has fallen of the body. Laughter fills the training room at Keru Yakaar, where some 15 staff has come for CPR lesson. A Canadian military nurse teaches the class voluntarily: He is strict … so everyone pays attention! Thanks to him and a trained KY employee he trained, we now have been teaching almost all our staff – and that of a number of sister clinics – for  first aid and CPR.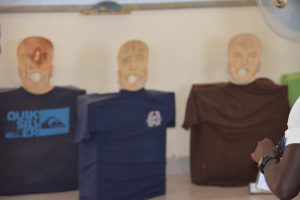 The CPR lesson are part of a series of changes to improve emergency care in the clinic. Another important component is a new triage system, where we determine whether a patient is seriously ill and needs help urgently directly at the entrance. We are getting ready for the next phase: the renovation and furnishing of a small ER. It is also essential that we have good contact with neighboring hospitals where we safely refer critical patients to.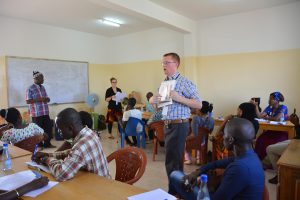 Emergency Care is a domain that has been little developed in Senegal. It is for a good reason that the Minister of Health has made this a priority this year. There are hardly any hospitals with intensive care and first cardiac aid and ambulances are practically non-existent. At the clinic we see regularly the sad harrowing consequences of this deficit.
Not long ago a man died upon entering the clinic, probably of a heart attack. As a team we did everything we could, but even CPR could not save him. When a family member came to thank us the next day because they had seen that we had done everything possible to save the man we had mixed feelings; because we desired to have been able to do so much more. We are reminded that there is still much to do before a patient like this can be helped in a good way and it motivates us to go far beyond these initial CPR classes.