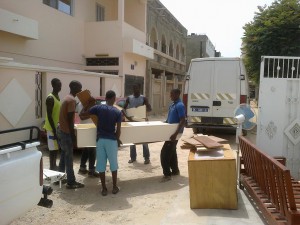 It is with gratitude that we show you some pictures of our new home! We moved in a rush, totally unplanned and very disorganized, but thanks to the help of friends and our C&MA team it still was successful and fun day!
When our roof came down we took some time to pray and reflect. Should we move back in? We decided to look for a new house, and asked God to take this traumatic experience and make it into something beautiful and give us a home which suits us even better.
An interesting process with agencies, landlords and middlemen brought us – sometimes with obscure reasons, but mostly in good harmony – past a large selection of houses. The housing market is a tough world and it demands a to be focused to avoid being tricked by smooth talks and ending up paying way above market prices.
After staying 6 weeks with friends and in a guesthouse, having lived out of a few suitcases, we are pleased that we have now found our own place and a solid roof over our heads! After visiting this house for the first time, Jan sent a text to Tabitha saying: "just found our dream house!". It is a beautiful place where we hope to live many more years!
Some of the advantages of this home:
There is a garden to play and eat outside

There is a football field (sand) next to the house

It is small and cozy

The children have their own room

a good relationship with the owner of the agency

We are surrounded by a number of retired civil servants, the perfect social control

We can both walk to work!

There are a few girls of Maria's age in the street

Our best Senegalese friends now live close by.

No planes descending to the airport just a couple of feet above our house: What a rest!
We thank God that we have found a new and better home. We are grateful for the blessing of friends. And above all, it is so special to experience the peace of God that carries us through this fierce time.