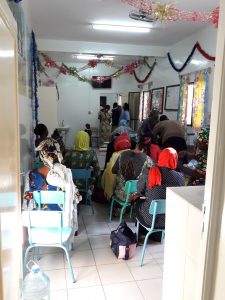 Right at the entrance of the Keru Yakaar clinic, the triage nurse sees that toddler Modou has signs of dehydration. His mother has taken him because he has had diarrhea for a day and does not want to eat. Modou gets a red card which allows him to skip the line and go directly to the pediatric clinic. Treatment is immediately started for rehydration and 2 hours later, Modou is already doing a lot better!
Since more than half a year we have introduced a new triage system in the clinic. More than 200 patients visit our clinic every day and we had noticed that patients with urgent needs sometimes had to wait too long in line. A special triage nurse is trained, and ,together with the security guards, she recognize emergency situations such as dehydration in children, respiratory problems and heart complaints by asking a number of questions and simple observations. Certain contagious diseases such as measles are also identified at the door so that other patients in the waiting room will not be contaminated.
With quick treatment and referral, we have been able to help many patients and save lives. Because we are not a hospital, but a primary care clinic, such a triage system is not common and has never been described in literature in our context. Thanks to an American colleague, this system is now well implemented at Keru Yakaar. We are currently collecting data so that the system can be further known and other clinics can use it.