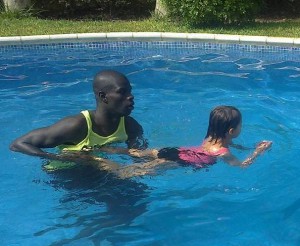 Dakar is a peninsula, and just like "Holland Waterland" it is important to know how to swim. Swimming lessons however are not easy to be found… Maria joined the sport center for a while, but when 20 children swim laps one by one, there's not much advancements. And when you see your child shivering on the side of the pool despite the 30 degrees Celsius, it is very evident that she's waiting too long.
Fortunately the grandparents of one of Maria's friends have a pool in their garden. And with the help of the private teacher the girls advance quickly.
There is no swimming diploma yet in Senegal, but the A Diploma criteria we translated to French provides him with enough inspiration. Breast stroke, crawl, watertrappelen, he passionately teaches them everything. Well, except for swimming with clothes on, he had never heard of that practice before!