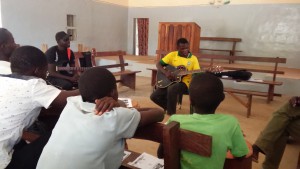 Passionately the newly formed band "Shalom" plays their first performance. It is the final concert after a full weekend music workshop by Cissa and friends for youth from different churches in the Casamance. People begged him the whole weekend to do a big solo performance. But even though "Shalom" does not sound too great, Bernard is sitting on the back of the stage, out of side, enjoying. He prefers to give space to this young talent, rather than claiming all the attention.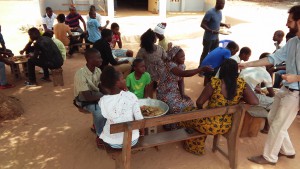 We have just set foot at shore after our fifteen-hour boat trip as we are already in a deep conversation at the table with the president of Evangelical Churches of the Casamance. At his encouragement we have come to Ziguinchor and he has personally made sure that all churches were informed. Music brings people together, we see it happening before our eyes as young people from all the churches of the village enroll in the music workshop.
We start on Friday with a team of musicians from Dakar. It is mainly due to the efforts of our local coordinator that everything runs according to plan and we work on all the finishing touches together, making sure the organization runs smoothly. Nearly thirty participants have signed up and they are all there. An intensive weekend, theory and practice for piano and guitar. We left them exercises that should keep them practicing for many months ahead. By going out to the youth in the village we seek to boost to the Senegalese gospel music.