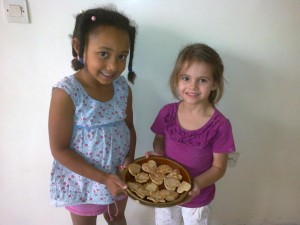 Een heerlijk en simpel recept koekjes afkomstig van mijn familie van Flakkee blijkt heel geschikt voor Afrika, waar de meeste mensen geen oven hebben.
500g bloem
250g basterd suiker
1 zakje vanillesuiker
Snufje zout
250g boter
1 ei
1,5 eetlepel stroop uit de koffer of lokale honing (met stukjes bij!)
2 theelepels kaneel
Je kunt ook van alles de helft nemen (editors note: of twee keer zoveel…). Deeg uitrollen, vormpjes uitsteken en in een droge koekenpan om en om enkele minuten bakken. Wel een tijdje werk, maar een leuke vakantie activiteit voor Maria en haar vriendinnetjes.