"Music is like a pearl, so beautiful that you want to share it with everyone. Music communicates, it touches. God has put this musical creativity in us." It's April 26th, and party time! Bernard's new album is inaugurated. I (Jan) explain the vision as a producer on behalf of our team. Music made by young Christians can have its place in Senegalese society. Biblical lyrics can even be highly relevant to everyday life in Senegal. This is demonstrated by the success of this new CD, which is received with enthusiasm by many radio and TV stations.
Our vision is to initiate a movement under young Senegalese Christian musicians. It is the vision that burns in the heart of Bernard. As a Christian musician, he has often felt alone. He wants to share this experience of years of hard work and struggle for Christian music with young musicians. Paving the way for them, so their road will be less heavy.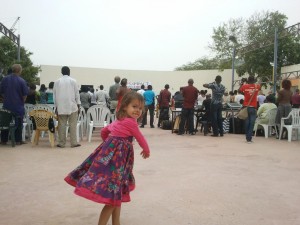 Through the organization of workshops, jam sessions and concerts we want to inspire and encourage the musicians in their musical develop-ment. Through advice, guidance and fundraising we want to help them to make the next step in their music career. Each artist has his own sound, but we have one thing in common: we all received music as a gift from God and we use our talents for quality music with a profound message.
During the two concerts we gave I a movement of hope arising. Young Christians realize that they may be proud of their message, and that Christians are able to deliver high quality work. A hope that seemed to be extinguished by disappointments in the past. As this expectation grows, so does our responsibility. But encouraged by the reactions in the media and the churches we join hands to seize the opportunities that arise!
Thanks to your support we have already achieved a lot. Put the work is not yet profitable. Gifts are still welcome and necessary: contact me for the details on how to sponsor jan @ kieviet.org