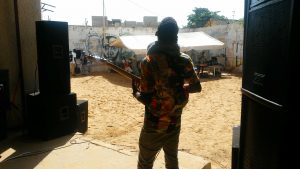 In partnership with ICF Dakar, we organize concerts every year in several prisons in Dakar. The authorisation needed for these events comes from the highest level at the ministry, and it is never a done deal that we get the permission. This year we went to two women's prisons and a juvenile prison for boys. When we take in the speakers, cables and the mix table in the morning, we already feel that it will be a special day.
In the courtyard of the boys' prison, the chairs are already on both sides of the sand. The chairs at the exit are obviously meant for us, the visitors. The young people are already exited when they are brought in. Not just for the concert, but also for the traditional wrestling matches that will be held during the concert.
Bernard has a special talent for connecting with his public. Soon they all sing sing their hearts out: "Il ne faut pas rater le Rendez-Vous avec Jésus" (don't miss your appointment with Jesus) and "Yesu sama Ndanaan" (Jesus is my hero). Between the songs, Bernard explains their meaning, he urges the boys to treat girls with the same respect they have for their mothers, and invites them to seek God with all their heart and to put their trust in Jesus Christ.
It is actually a miracle that we get so much freedom in the prisons. But as long as the doors are open to bring the Christmas message through music, we seize every opportunity!