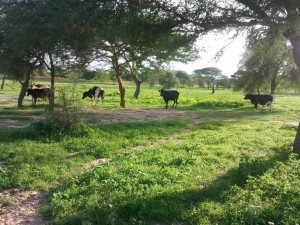 Frankly, I (Jan) was a bit reluctant. I feel relaxed and at home in the city, but the countryside is full of dangers. I prefer to meet a gunman at night than a snake… But still, our good contact with Dr. Soh and the opportunity to participate in a medical campaign made us decide to make this 5 hour trip as a family. First one hour by taxi, then 4 hours by public transport, in a so-called "7 place" – a converted station wagon (Peugeot 406, etc.) which has three extra seats in the back. We pay all seven places and thus have a comfortable ride (if not luggage for seven people – including some sheep – will be crammed into the car as well…)
Once out of town we see a beautiful green landscape with a tree here and there, shepherds and cattle everywhere and small villages with thatched huts. We meet friendly, curious people whenever we get out of the car, and when greeting in their own language contact is easily made.
We move into the house of Dr. Soh who entrusts his own bedroom to us. Because of the holidays his house is crowded with nieces and nephews ​​who live in surrounding villages. Tabitha travels another 80 km further north for the medical campaign. The next few days I'm left behind with the children in Dahra. Here I learned some valuable lessons:
Fulani (the people who live in Dahra) love making jokes. As both my French and Wolof didn't help me here I kept to a reliable proverb: if everyone laughs, laugh with them 🙂
While Simon was following the animals on the yard (and beyond…) while calling "pet the sheep, pet the goat" Maria showed more resemblance to her father when saying: "I don't dare to pet sheep… I only eat them!"
The interiors of Senegal are particularly beautiful! Thanks to the recent rains there is a green blanket as far as meets the eye.
It's nice and cool under a tree, and at night it is cooler in the countryside than in the city. I just found out that this even scientifically proven…
Life in the villages is actually much better than life in the city…
Heading back home from Dahra we rented another 7-place. Unfortunately, this one did not drive faster than about 80 km per hour (60 according to Tabitha, but because the odometer was not working we couldn't verify). So the journey took a little longer than expected, and we could enjoy some more of nature!