Every Sunday morning we are awakened by the joyous music that echoes from the church to the hospital and the homes of hospital staff. At the door we are warmly welcomed by the  midwife. The man who always collects the garbage sings in the choir. We keep a little distance from the patients wearing a surgical mask, but one thing is clear: everyone is equal in the house of God.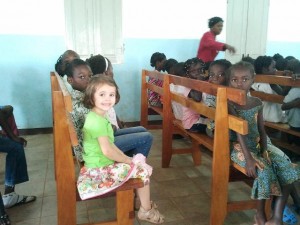 There is always a moment during the service, when the guests are welcomed. Many guests are patients from the hospital, people who are often despised or excluded in other situations. 
TB patients with their surgical masks, an albino woman, HIV patients, and the blind. They are asked to stand up and guided to the front rows, that are reserved for them. After the service, the pastor personally greet them and get acquainted. Here they are not excluded, on the contrary, they sit next to the elders, and between the choir members.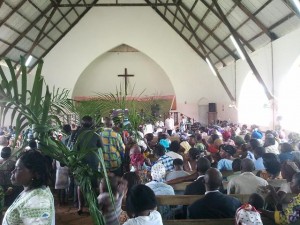 When the service is about to end, one deacons is requested to come forward. He looks at the ground. "When I discussed my plans with people, everyone advised me not to take that step" he begins his story. "Sorry I have not listened to you, I have made mistakes, I have not followed the path of God" The deacon is also a nurse in the hospital. He went to another hospital to work, because they offered him a higher salary. But he did not feel at peace about it, so he returned. Serving the people here in Bongolo is not the most attractive job, but the best place for him to serve God. The congregation answers his request for forgiveness with a loud "Amen!" He is welcomed again in the community, his faults are forgiven.
Walking to the church in Bongolo