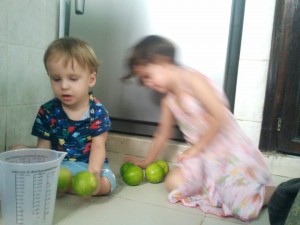 Ken je die gedachte: ik hoop dat ik met de taxi nog langs een rotonde kom want dan kan ik citroenen kopen. Net als in Nederland in elk station een Albert Hein to go zit, weet je in Senegal dat bij elke rotonde een man staat met een mand citroenen op zijn hoofd. Tenminste in het citroenen seizoen. Deze vitamine C bommetjes hangen nu rijp aan de bomen! Dat komt goed uit tijdens de griep epidemie (ja, in Afrika hebben mensen ook griep). Je doet het in je thee of water, je kunt er trouwens ook mee gooien en spelen, of je bakt er taartjes van..
Neem een citroen. Pers hem uit en raps de schil.
De citroenschil gaat met 250g bloem en 125g boter, 1 eidooier, 2 theelepels suiker en 2 eetlepels water in het deeg. Uitrollen en rondjes van 7 cm uitponsen. Deze als bakje in een muffinvorm leggen en 10 min bakken op 180 graden.
Het citroensap wordt met 125 ml zelfgemaakte dikke yoghurt, 125 ml gecondenseerde melk, 125 g suiker en 2 eidooiers de vulling. Doe dit in de bakjes, nog 5 minuten bakken en smullen maar!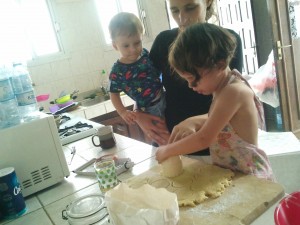 Als de video niet werkt kunt u haar hier downloaden.