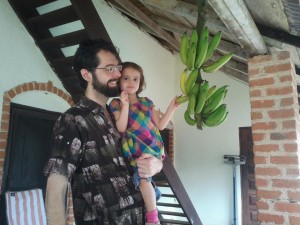 There are plenty of bananas around here, a rich source of Vitamin C and Potassium. They fall from the trees and they are either eaten by the ants, or you turn them unto a bananabread!
Ingredients:
3 or 4 ripe bananas, smashed
75 gram (1/3 cup) melted butter
200 gram (1 cup) sugar
1 egg
1 sachet (1 teaspoon) vanilla
1 sachet (1 teaspoon) baking soda
Pinch of salt
180 gram (1 1/2 cups) of all-purpose flour
Instructions:
Preheat the oven to 175°C (350°F).
Use a wooden spoon to mix butter into the mashed bananas in a mixing bowl. Add sugar, egg and vanilla. Now add baking soda, salt and the flour, mix it all (no mixer needed). Pour mixture into a buttered loaf pan and bake for 1 hour.