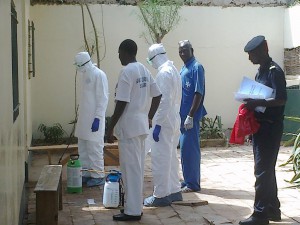 "Last week Friday the first Ebola case was confirmed in Dakar, and ever since we are in war." The head doctor of the Northern Health District of Dakar has called for a crisis meeting for all Health Post leaders. The whole world now knows that Ebola arrived in Senegal, and international organizations as the WHO and CDC are taking action. But seated here in this small conference room – where I'm the only Westerner amongst 30 professional healthcare workers – I realize that this is where the war is being waged. As if I'm guest-starring in a movie I wouldn't dare watching…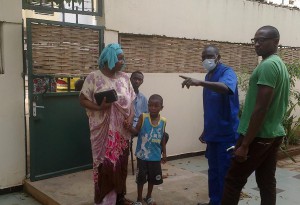 You might think that one Ebola patient is no big deal, but the consequences are huge and a challenge for the health system. The whole situation took place in the Northern Health District, to which Keru Yakaar belongs. This Guinean student had lost four family members to Ebola and fled desperately to Dakar. When he fell sick he went to a health post close to Keru Yakaar for help. He received treatment and was released the next day. Four days later he was extremely ill and went to the hospital for care. Here he was tested positive on Ebola.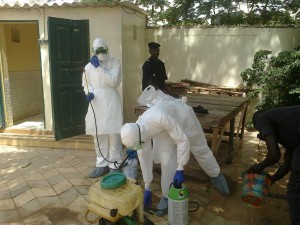 The result: 67 people who'd been in direct contact with this man are quarantined for the next three weeks. Half of these people are health workers. It is thus not surprising that the Head Doctor is doing what he can to prevent further spreading. Keru Yakaar is mentioned as example, since we are the first to have an Ebola protocol in place. We were soon to find out, this wasn't in vain…
Already the next day we see the first patient suspected to have Ebola: a boy from Guinea with high fever. Thanks to our protocol everyone wears gloves and the patient is identified at the front door screening and directed to the isolation room. In all calm, and as a team, we follow the prescribed procedure. Not longer after the "white brigade" enters the clinic. The government team shows up with ten people to evaluate the patient and take blood samples. All dressed in protective white clothing. Thankfully: the test result comes back negative!
We don't know what to expect for Senegal. But is makes me proud that we have proven to be ready to receive the patients. And that we have given preventive information to over 500 patients.
If you like to join Keru Yakaar's battle against Ebola and supply us with the necessary extra equipment, please make a donation to: CAMA Zending IBAN: NL76 ABNA 0484 6740 48
marked. Project Kieviet Ebola (or incasso or iDeal). From the US: https://secure.cmalliance.org/give/ marked: "Senegal – Work Special Kieviet Ebola".